Welcome to the
HOTELchen Garni at the Theatre
The HOTELchen at the Theatre is located in the center of Erlangens old town. Directly opposite the "Marktgrafen" Theater, you can reach nearly all points of interest by foot. Especially the surrounding narrow alleyways invite to stroll through and to rest for a while.
Entering the house, the hustle of the town is forgotten because all rooms are peacefully situated to the romantic green interior courtyard.
The HOTELchen was established in 1982 by Tini Herrmann-Dörr and is managed as a family-owned business in the second generation by Nora Dörr.
At the moment we have 12 individual furnished rooms.
Your HOTELchen
and Nora Dörr
---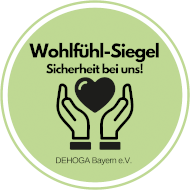 Certified with the DEHOGA Wohlfühl-Siegel